Welcome to my official author website.
I write short stories, poetry, novels and childrens books.
So far my published works vary from poetry to childrens books.
My newest project is:
" Appaloosa Tales With A Christmas Spirit"
ISBN# 1-4241-3153-7
and is available through Amazon.com, Barnes and Noble online, and can be ordered through any bookstore.
The Good Book will keep it in stock.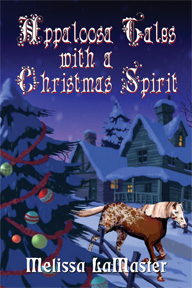 Review for "Appaloosa Tales with a Christmas Spirit":
I took the opportunity to not only read "Appaloosa Tales with a Christmas Spirit" by Melissa LaMaster for myself, but also read it to my grandchildren ages 6 and 4. These endearing stories gave way to smiles, cheers, and even awes. This collection of three stories, "Halos for Christmas", "How Cinders Found Christmas", and "The Spirit of Miracles", are each beautifully woven tales with important messages in each. You children will love all three. Her characters leap off the page and inspire the true spirit of Christmas, family and love. Melissa LaMaster's writing style has a time-honored feel that will live on past the holidays. I recommend you not only read these lovely stories, but also encourage your children to read them too.
Reviewed by Donna Sheehy
Author of Romancing on the Bay of Fundy
News on 'It's A God Thing?" and to submit your story..click here.